WE ARE COMMITTED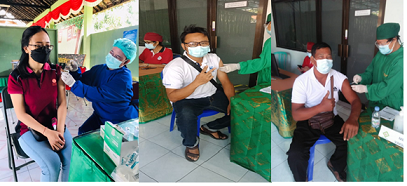 Welcome to our latest online newsletter!
For the month of May, we have some very exciting news to share. We are immensely proud to announce that Bali Bidadari Group team has been 100% vaccinated! Thank you to the team for your willingness to participate in the vaccination program. We would like to thank everyone involved for their hard work and support to get closer to being able to open the borders up soon!
As the international borders remain closed as well as the government's wise decision to minimize travel during the National holiday at the end of Ramadan, travel restrictions are also being enforced within Indonesia. We have therefore created a very attractive staycation promo for those who are lucky to be in Bali! Promos range for hotel & Villas suitable for couple, honeymooner, groups of people include families of up to 8 in our perfectly designed 4 bedrooms Villa! Find out the details below!
Contact the friendly special occasion team at Bali Bidadari Group to discuss the different options for your once in a lifetime experience. We are here to make sure your special day is a day that will be unforgettable day of bliss! During the quiet times in read the promotional rate in details below!
We hope you enjoy reading our online newsletter! Stay update by following our Instagram, facebook, YouTube channel!
PROPERTY INFORMATION
The Light Exclusive Villas and Spa commitment for the cleanliness
Click here to watch our safety protocols https://youtu.be/jkgfa91Gp6E
Providing a safer environment for our guests and associates is a top priority. Achieving this is a shared responsibility. Please join us in our efforts to enhance the safety of our public spaces by complying with local regulations, practicing social distancing (staying at least 6 feet or 2 meters from other guests and villa associates), and wearing face coverings whenever you're in public areas of the villa. We do appreciate your support and understanding.
Social Distancing measures and contactless experiences
Signage throughout our villas to remind guests to maintain social distancing, occupancy limits and seating capacities reductions in our restaurants in compliance with local and state mandates, and partitions installed at front desks and food and beverage service lines.
Cleaning protocol & House-keeping services
In keeping with property to Clean, we have made several enhancements to our cleaning practices throughout our property and in guest rooms. These include:
Enhanced Public Space Cleaning:We have increased the frequency of cleaning and disinfection, particularly in areas with high traffic including restrooms, and elevators as well as provided more hand sanitizing stations.
Personal Protective Equipment (PPE):Staff members will wear PPE (e.g., face coverings, gloves, etc.) based on the activities they are performing and based on direction by the local authorities. Guests are welcome to wear personal face coverings.
Electrostatic Spraying:We're utilizing enhanced technologies, including electrostatic sprayers with hospital-grade disinfectants, to support our already rigorous cleanliness protocols.

Every guest room is thoroughly cleaned and disinfected between each guest. We will continue to provide housekeeping services daily while you are away from the room. If you have any specific housekeeping preferences or would like to not receive housekeeping service during your stay, please contact guest services at any time.
Property Amenities and Services
Room Services : Open, based on guest's request
Breakfast: 08:00 – 11.00, Lunch: 12:00 - 15:30
Spa: Open, reservation required